Improved Living Conditions for Villagers in Makit County
Dongfanghong Village in Yantak Township of Makit County is located in Kashgar Prefecture of northwest China's Xinjiang Uygur Autonomous Region.
Before 2012, houses in the village were in poor conditions. They were built with wood, which was not anti-seismic, even though the region is prone to earthquakes. In addition, despite a low precipitation rate, when it did rain, water would leak through the rooftop, and the yard would be full of mud. Furthermore, transportation was inconvenient as roads in the village were in poor conditions. It was both hard to commute to other places and to find vehicles.
In order to improve people's living conditions and quality of life, the local government initiated a project to renovate all the houses in the region and develop better public infrastructure, which commenced in 2012.
Through the government's efforts, the exterior structure of the houses in Dongfanghong Village was replaced by cement, which is anti-seismic and steadier. Public infrastructure was also upgraded in the region, with better road conditions and easier access to transportation.
Arriving at Dongfanghong Village, we were invited into the home of Elham Amet and Nurimangul Yidiris, a couple whose families have lived here for generations. Together, they shared the changes in their lives in recent years.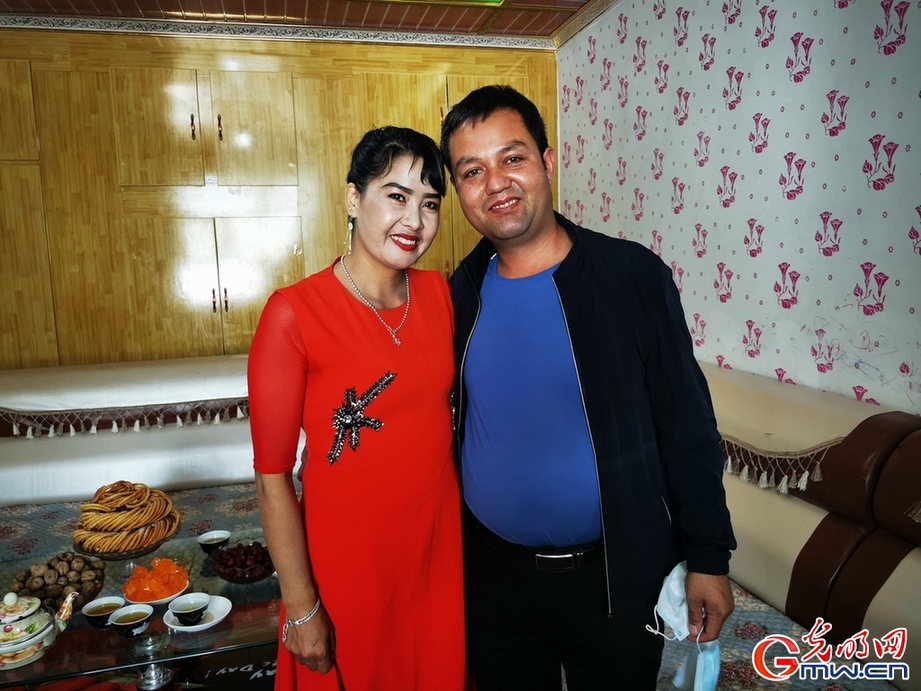 Elham Amet and Nurimangul Yidiris (Junye Zhang/Guangming Picture)
"Our new home was built in 2012. The government subsidized us for the majority of the construction cost, and we only had to pay a small amount," said Yidiris. Thanks to such endeavors, lives for villagers like the couple have improved remarkably.
The couple have four children, the elder two are attending school in the county seat, while the younger twins still need to be taken care of at home. Owning 10 mu (0.667 hectares) of farmland, the couple rented most of the land to other villagers, as childrearing duties takes too much of their time. "We only do a little bit of farm work, mostly planting red dates," said Yidiris.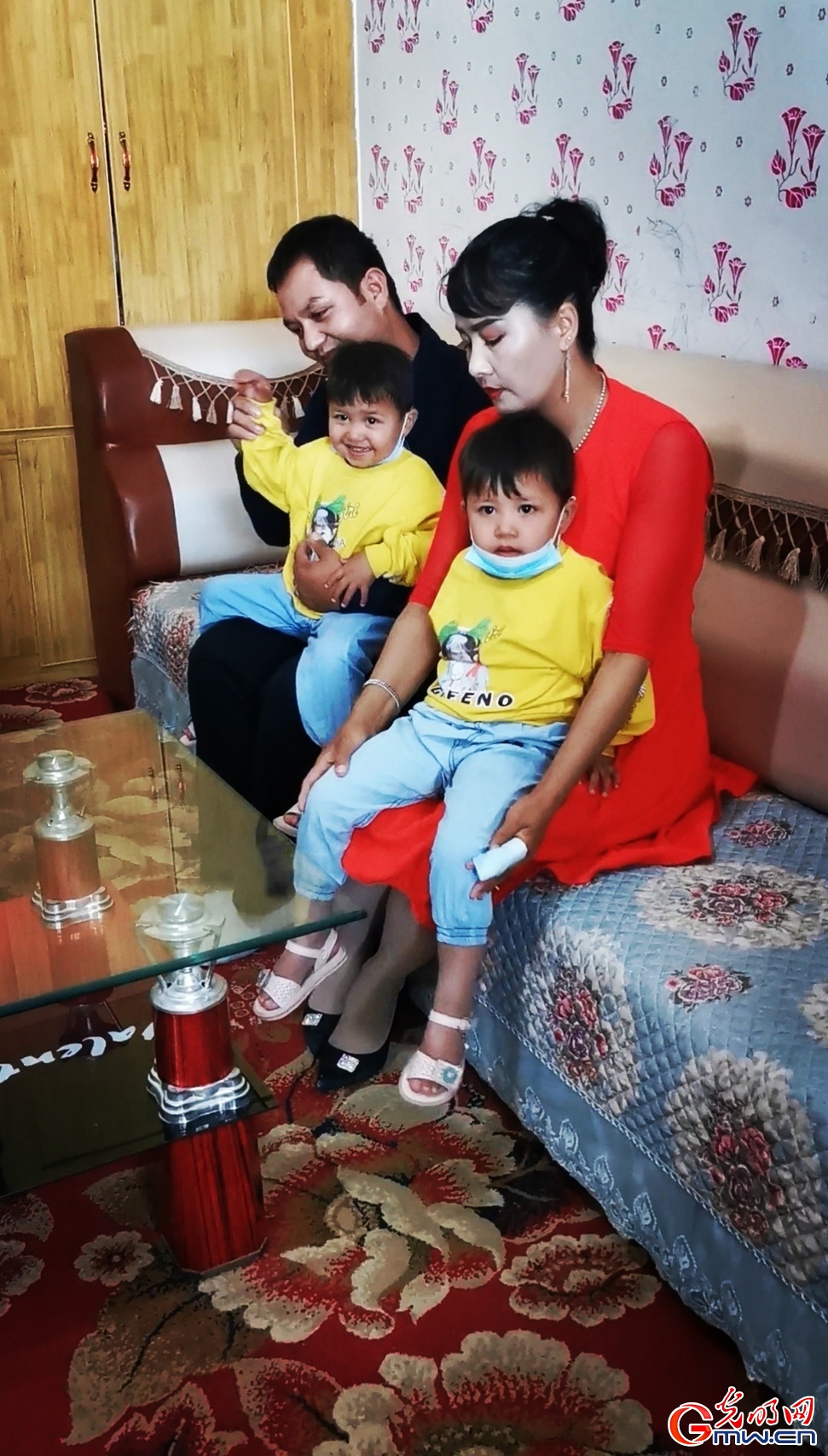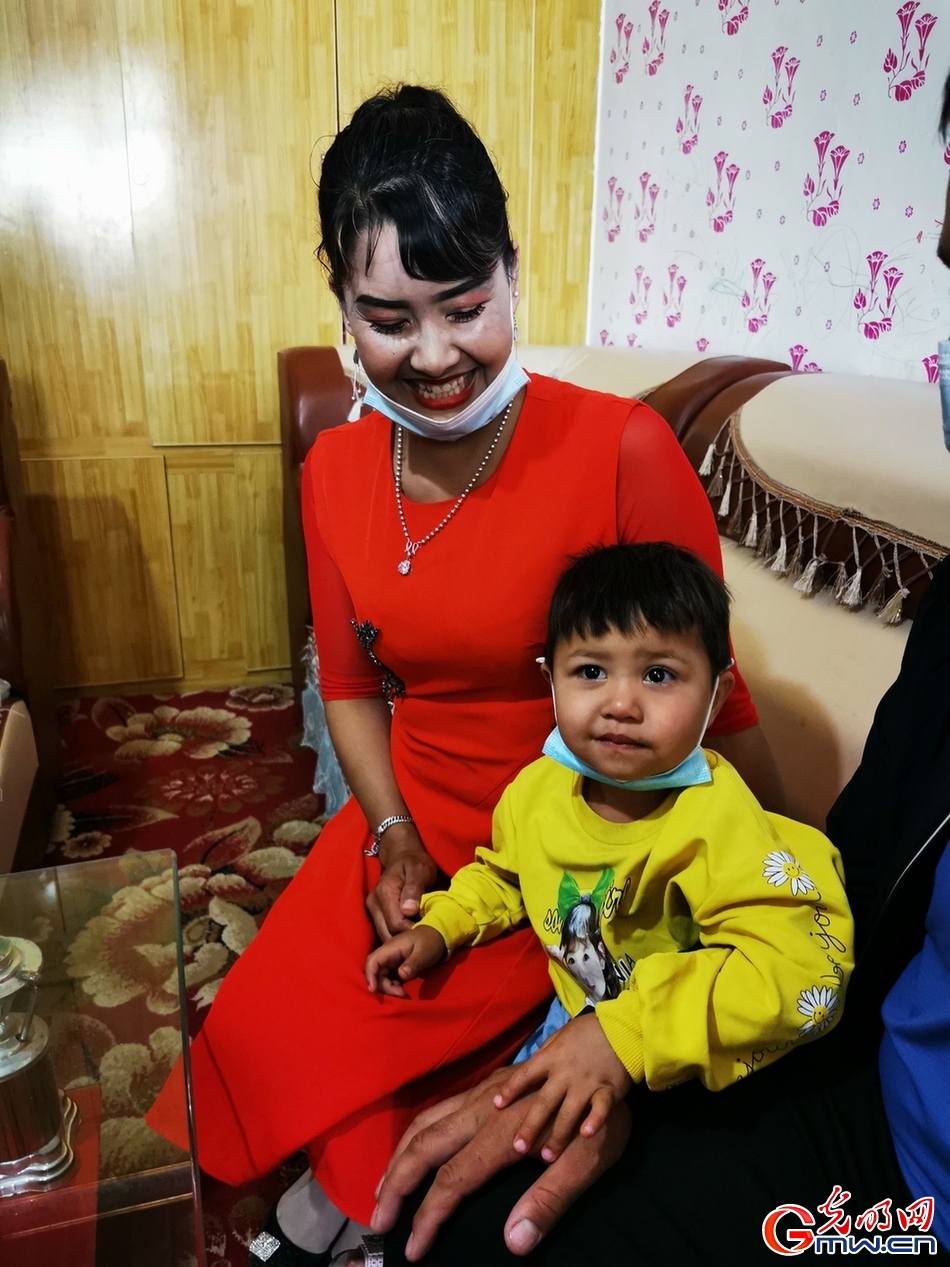 Amet and Yidiris with their twins (Junye Zhang/Guangming Picture)
Despite being busy taking care of their children, the couple still have different sources of income. Amet is a full-time driver, making 3,000 yuan per month. Though Yidiris stays at home most of the time, she also works part-time at a barber shop. With a combined annual income of around 55,000 yuan, they are considered middle class in the region.
With a happy family life and plenty of ways of earning income, Amet and Yidiris seem satisfied with their current lifestyle, and hope for the better for their children.
[ Editor: JYZ ]