China-Europe seminar cares for human rights during pandemic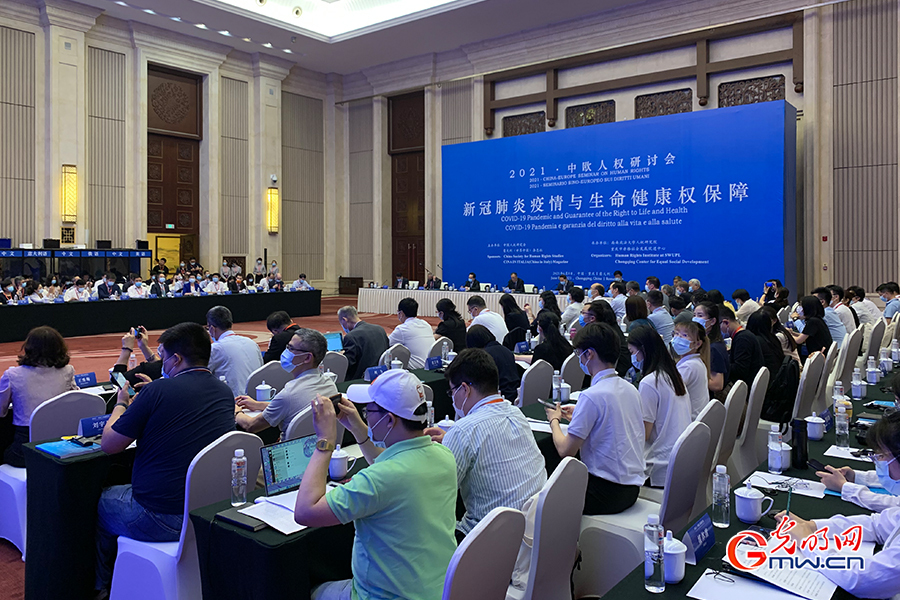 Photo taken on June 8, 2021 shows the offline site of the 2021 China-Europe Seminar on Human Rights in Chongqing, southwest China. (Photo by Zengkui Li/Guangming Picture)
The 2021 China-Europe Seminar on Human Rights, focusing on "COVID-19 and Guarantee of the Right to Life and Health", was held on June 8, 2021 online and offline in Chongqing, southwest China and Rome, Italy.
More than 170 political leaders, experts and scholars from China, Italy, France, Germany, the Netherlands, Spain, Portugal, Russia, Poland, Austria Spain and other countries, as well as representatives from international organizations, including the United Nations High Commissioner for Human Rights and the World Health Organization, joint this year's event to share insights and discuss issues regarding human rights in the light of the pandemic.
Keynote speeches are delivered by high profile authorities from China and abroad, highlighting human rights topics of a wide variety, concerning relevant fields of public health, judicial support, vaccination, pandemic control, international relations, etc.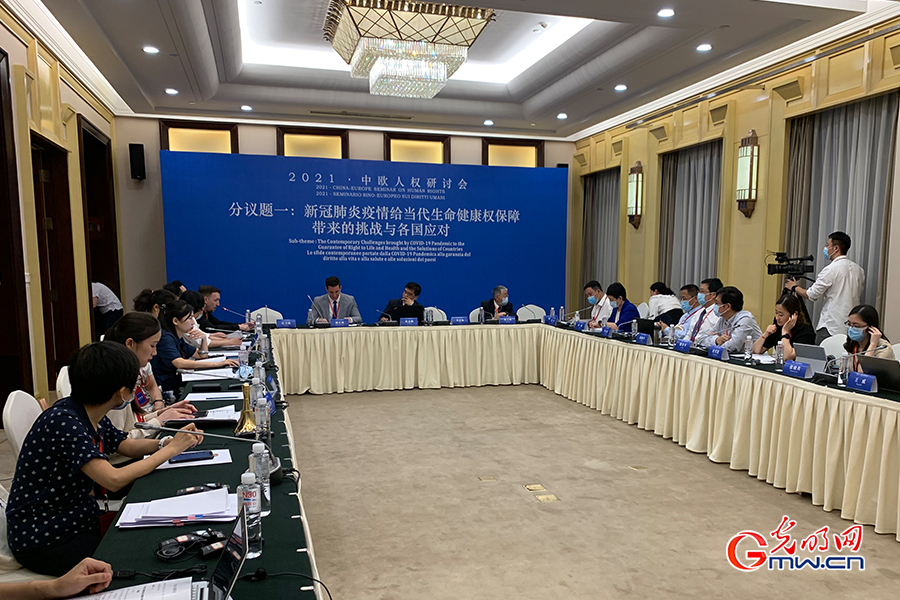 Photo taken on June 8, 2021 shows one of the parallel sessions during the 2021 China-Europe Seminar on Human Rights in Chongqing, southwest China. (Photo by Zengkui Li/Guangming Picture)
Five parallel sessions followed behind, themed with "The Contemporary Challenges brought by Covid-19 Pandemic to the Guarantee of Right to Life and Health and the Solutions of Countries", "Guarantee of Specific Groups' Right to Life and Health under Covid-19 Pandemic", "States' Obligation to Guarantee the Life and Health in Public Health Crisis", "International Cooperation in Prevention and Control of Covid-19 Pandemic", and "Italia's Protection of Citizens' Right to Health in Covid-19 Outbreak".
The event is sponsored by China Society for Human Rights Studies and Cina in Italia magazine, organized by Human Rights Institute at SWUPL and Chongqing Center for Equal Social Development. First started in 2015, the China-Europe Seminar on Human Rights has long been serving as a platform for international communication and cooperation in the field of human rights between China and Europe. At present, the Covid-19 pandemic is still rampant around the world, and the combat against the virus is not yet over. The seminar this year is of great significance under the current situation.
[ Editor: WXY ]