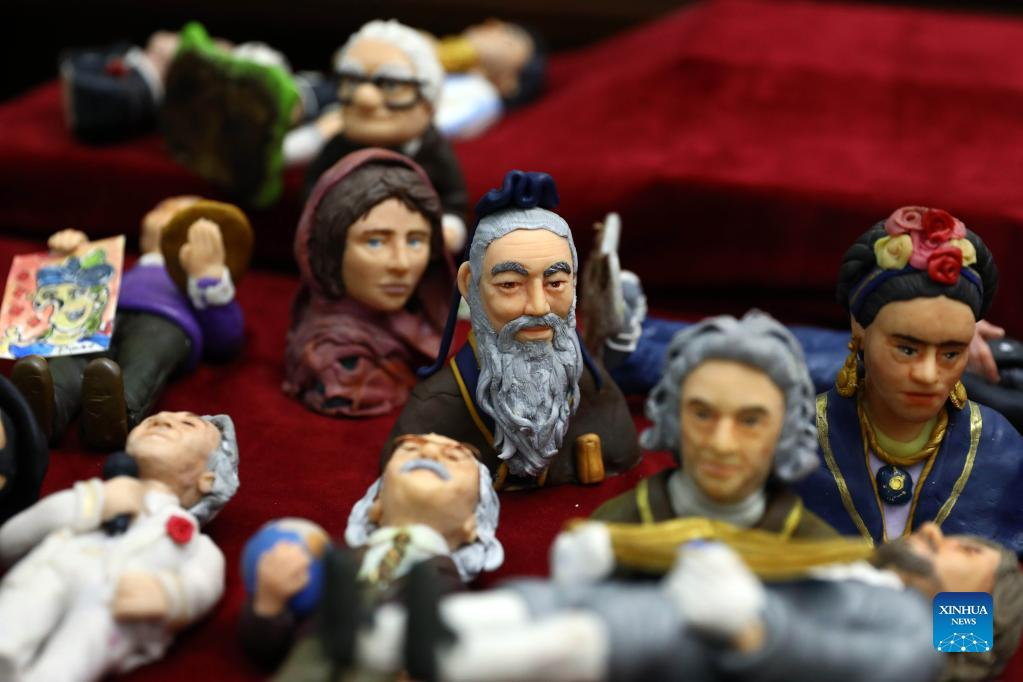 Photo taken on Jan. 2, 2022 shows miniature sculptures carved by Egyptian artist Fady Francis at his workshop in Cairo, Egypt. On a table in downtown Cairo, Fady Francis, 30, aligns miniature sculptures of 100 influential world figures, standing side by side in harmony, although the figures were from different cultures, spoke different languages and lived in different eras in history. (Xinhua/Ahmed Gomaa)
by Mahmoud Fouly
CAIRO, Jan. 9 (Xinhua) -- On a table in downtown Cairo, Fady Francis, 30, aligns miniature sculptures of 100 influential world figures, standing side by side in harmony, although the figures were from different cultures, spoke different languages and lived in different eras in history.
These statues and busts are carved by Francis as part of his 100-figure sculpture project that he has been working on over the past three years and expects to display in exhibitions in Egypt and abroad later this year.
Among the miniature sculptures are the mummy of Egypt's ancient King Ramses II lying down in a little coffin and the bust of China's philosopher Confucius, surrounded by statues and busts of Egyptian writer Taha Hussein, India's Rabindranath Tagore, German-born physicist Albert Einstein, Austria's composer Wolfgang Amadeus Mozart, and Spanish painter and sculptor Pablo Picasso.
"They gather together in one place regardless of their different languages and cultures," the Egyptian artist and journalist told Xinhua, stressing that it is the theme of his project.
Francis said his choice of Taha Hussein was because he was one of the most influential Egyptian writers in the 20th century and was referred to as "the Dean of Arabic Literature," although he became blind in his early childhood.
"He was a figure that defied all difficult conditions and his influence wasn't restricted to Egypt but extended to the world," he added.
Editor: ZAD