BEIJING, Jan. 13 (Xinhua) -- Hanging Spring Festival Couplets, or Chunlian in Chinese, on doors and walls is a common and important custom when celebrating Chinese New Year.
As a tradition, Chinese people write couplets, a two-sentence, auspicious poem written on red couplets in anticipation of a prosperous Lunar New Year.
The tradition is widely kept in modern cities and rural areas of China, and overseas Chinese communities.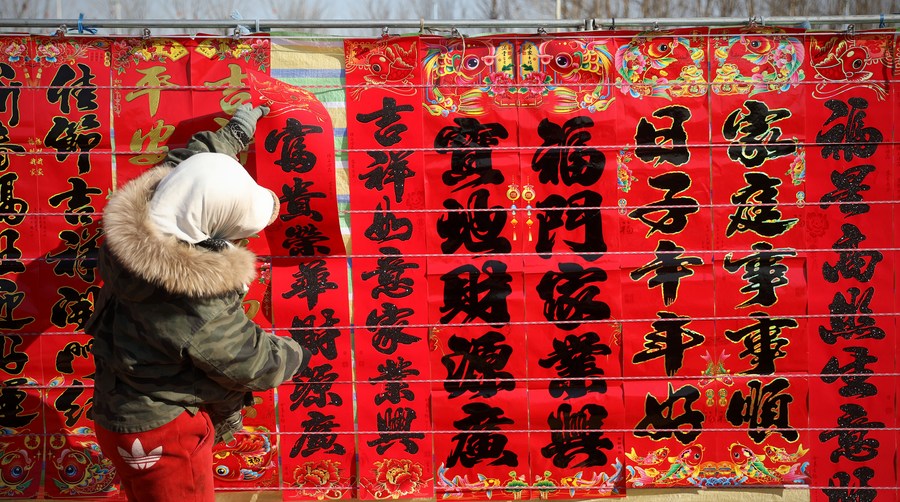 A vendor arranges couplets at a traditional Spring Festival fair held in Bayuquan District of Yingkou, northeast China's Liaoning Province, Feb. 8, 2021. (Xinhua/Yao Jianfeng)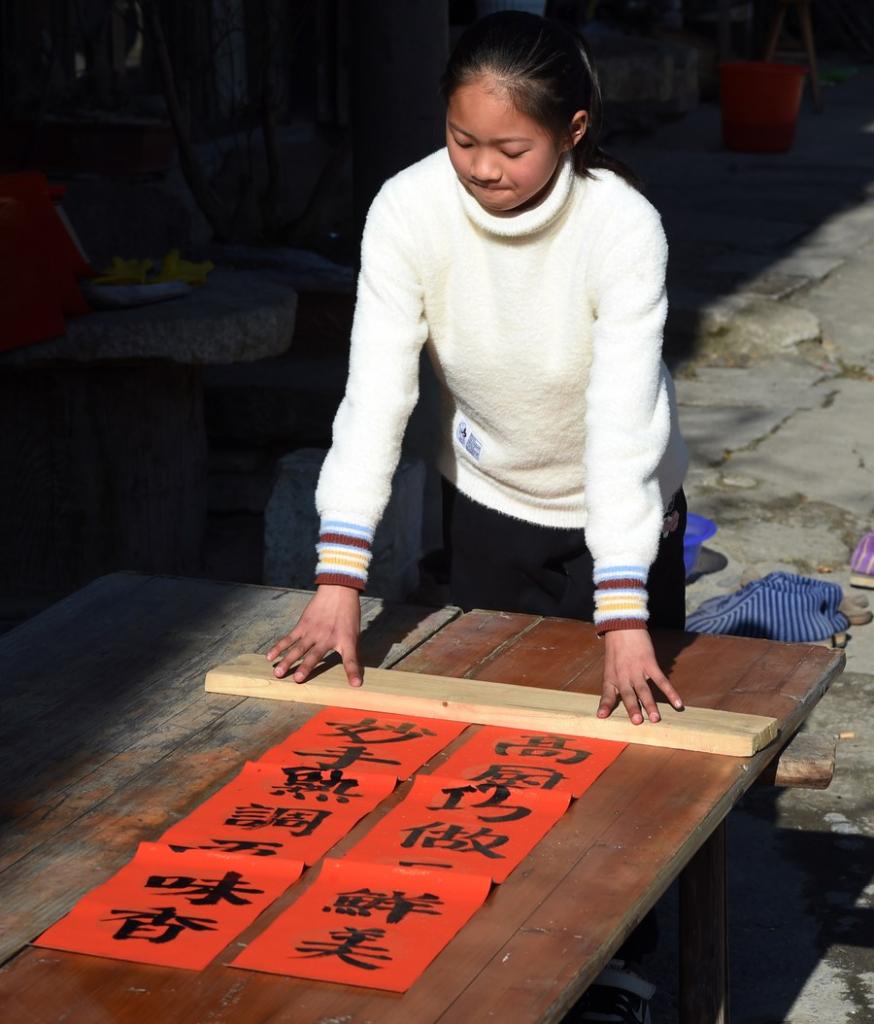 A villager airs Spring Festival couplets in Zhaji Village of Jingxian County, east China's Anhui Province, Feb. 6, 2021. (Xinhua/Zhou Mu)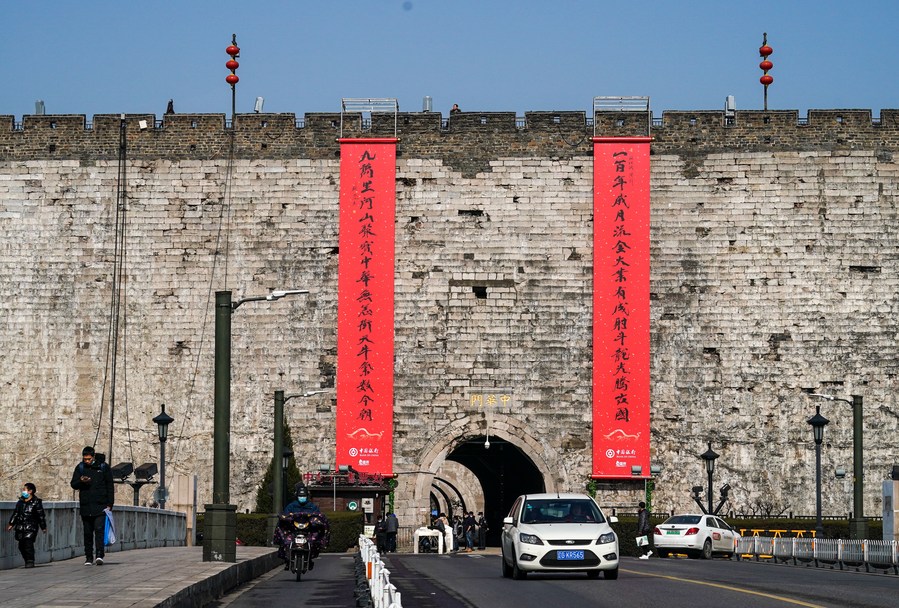 Photo taken on Jan. 30, 2021 shows the Zhonghua Gate with a large-size Spring Festival couplet decoration in Nanjing, east China's Jiangsu Province. (Xinhua/Li Bo)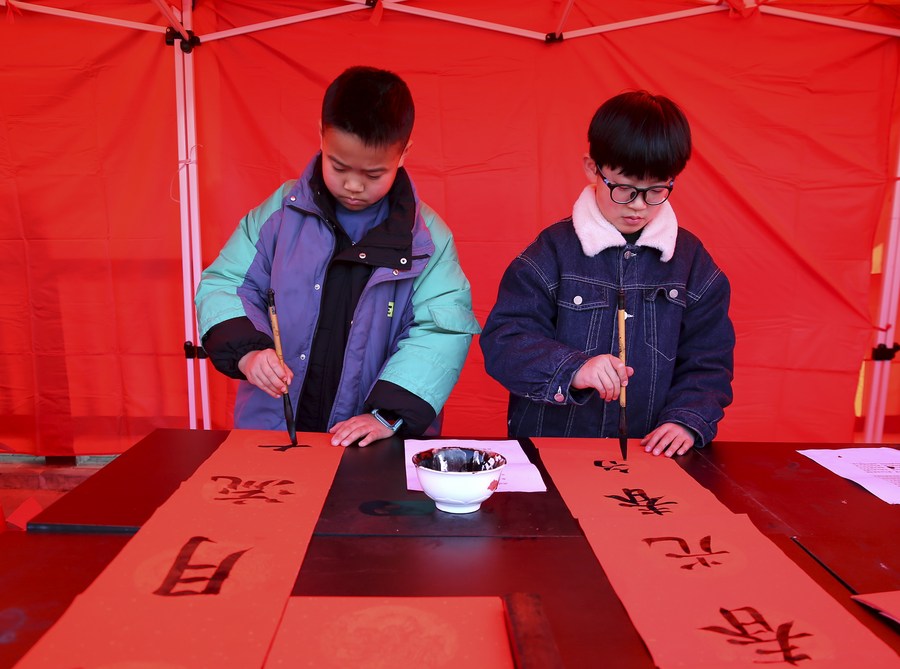 Children write couplets during the New Year holiday in Huai'an City, east China's Jiangsu Province, Jan. 1, 2022. (Photo by Chen Kai/Xinhua)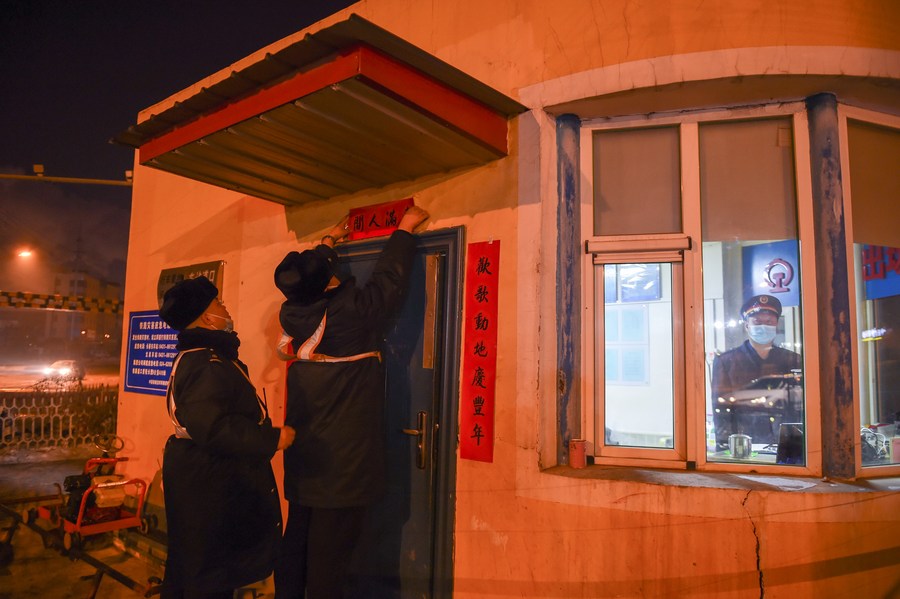 Yang Peng (C) and Wang Bo paste Spring Festival couplets, while their colleague Hu Delin (R) is on duty on the eve of the Chinese Lunar New Year at a railway crossing in the suburb of Changchun, northeast China's Jilin Province, Feb. 11, 2021. Hu Delin, Yang Peng and Wang Bo are patrollers who are in charge of the safe operation at a railway crossing of Changchun-Tumen railway. (Xinhua/Zhang Nan)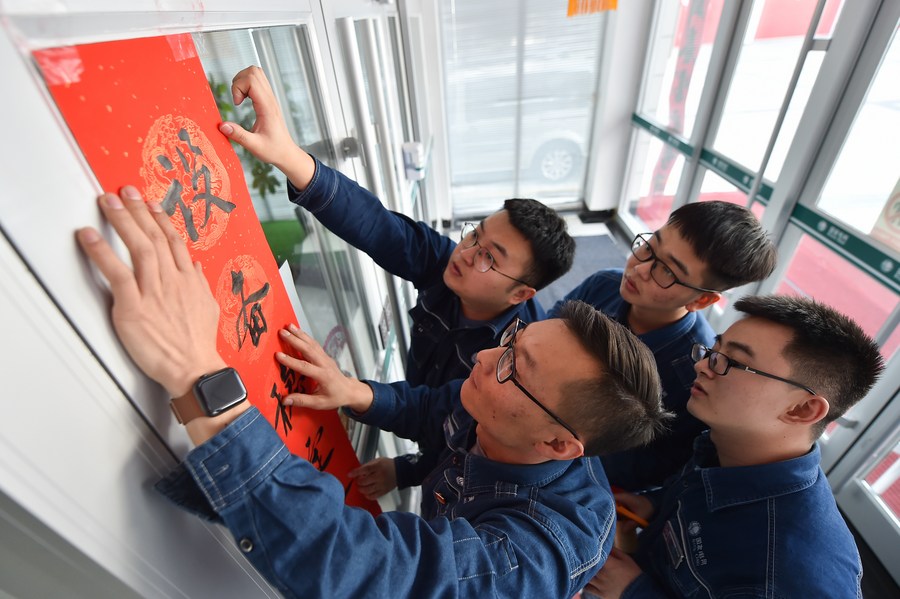 Workers paste Spring Festival couplets during a break at Xilingol 800 Kilovolt convertor station of the State Grid at Xilingol grassland in north China's Inner Mongolia Autonomous Region, Feb. 11, 2021. All 59 workers of the convertor station chose to stay put to celebrate this year's Spring Festival at the grassland. (Xinhua/Liu Lei)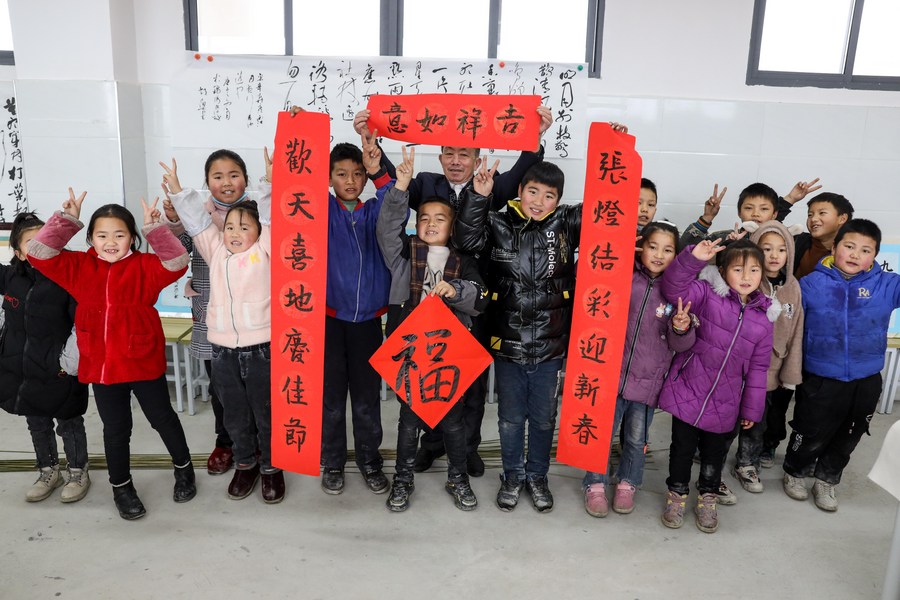 Students take part in a Spring Festival couplets writing activity at Jinxiu School in Qianxi County, Bijie, southwest China's Guizhou Province, Feb. 3, 2021. (Xinhua/Ou Dongqu)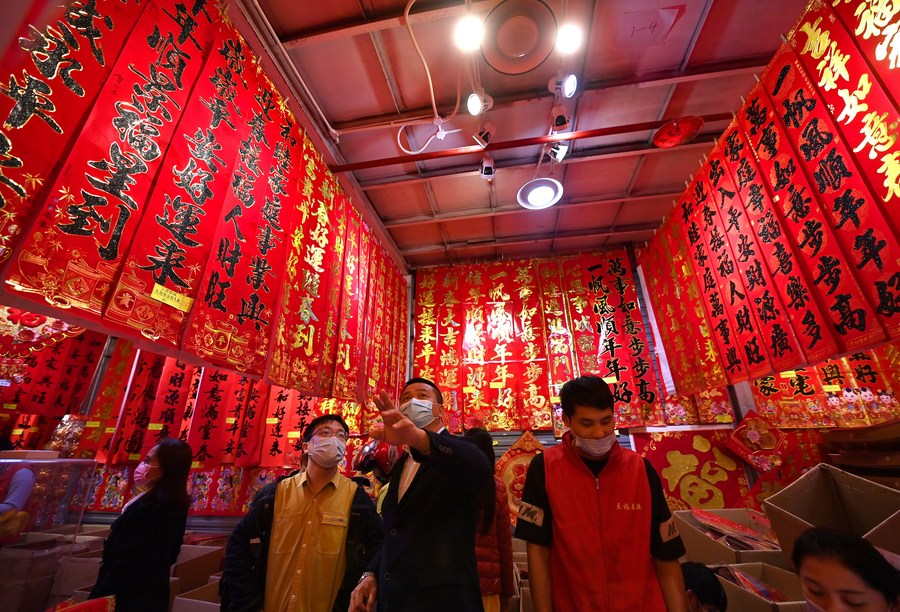 People select new year couplets at a market in Haikou City, south China's Hainan Province, Jan. 30, 2021. (Xinhua/Guo Cheng)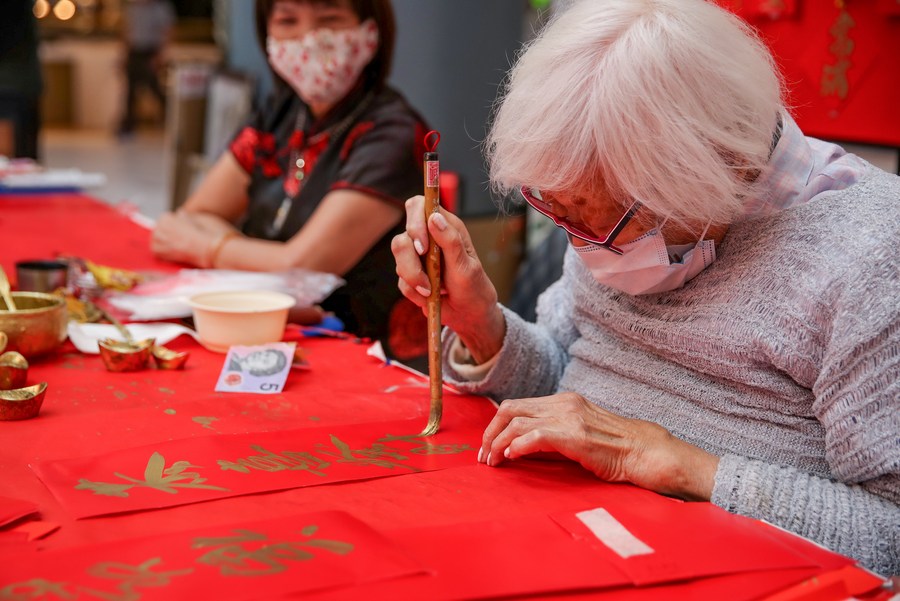 A 91-years-old resident writes couplets at China town in Sydney, Australia, Feb. 2, 2021. (Xinhua/Bai Xuefei)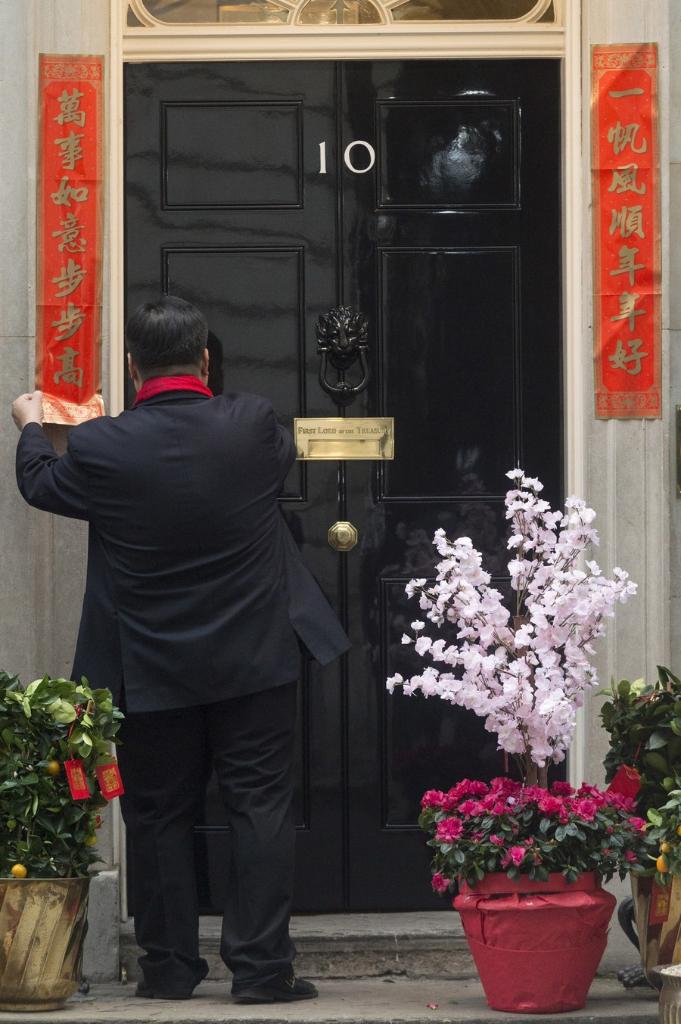 A man pastes couplets outside 10 Downing Street in London, Britain, Jan. 24, 2020, to celebrate the Chinese Lunar New Year. (Photo by Ray Tang/Xinhua)
Editor: WXL